Is the IT system in your health practice slow and unreliable? Are servers crashing and you're nervous about data security? Chances are you're on old, outdated or 'legacy' health technology systems.


Reluctance to let go of legacy systems doing more harm than good

A common mistake health practices make is thinking it's too hard and costs too much time and money to make the switch to more modern solutions.

But while legacy infrastructure and architectures in medical practices may have been a good investment years ago, now, because they are so outdated, these systems could be doing more harm than good. For instance, "fixing" legacy solutions, often results in 'Band-Aid repairs' and workarounds that don't fully address the underlying problem.

Meanwhile outdated 'server' based systems can be costing significantly more money and creating highly inflexible workflow restrictions that simply aren't compatible with today's mobile, telehealth-led and 'on the go' health industry.

As a result, practitioners and staff experience interrupted workflow and waste even more time and money 'making do' on old systems. Importantly, these slow systems could also impact your patient data security, and even jeopardise the efficiency and accuracy of clinical outcomes.

A case for change in healthcare

More health professionals than ever are now realising that digital transformation is critical to support better patient engagement, practice efficiency and diagnostic outcomes. In fact, Clinic to Cloud's recent study revealed 52% are maintaining spend in more modern technology solutions that support virtual and remote clinical and practice management (such as cloud solutions, online payments, telehealth, mobile apps). Only 5% are cutting back.

So how can your practice build a case for change, and take the steps to move away from outdated, legacy systems?

Here are six steps your practice can consider to help you move away from old legacy systems and replace them with new innovative, cloud technology.

1. Admit there is a problem with your legacy system

While there may not be an actual, 'obvious' technical problem with your legacy system, there is a problem with legacy systems as a whole in supporting today's modern and digital-first health ecosystem.

For instance, legacy systems such as server-based software are outdated, inefficient, and could pose a security risk to you and your medical clinic. Your legacy system may also not be supporting safe and secure patient communication, or a contactless health environment.

More modern solutions, such as cloud-based medical software, on the other hand, can improve your administrative efficiency while helping deliver higher levels of patient experience. These solutions also have a range of time-saving and flexible tools to help medical professionals such as inbuilt voice recognition, a mobile app and seamless third-party integrations.

2. Identify what you need to change

Once you've admitted there is a problem and accept there needs to be change, you need to identify what exactly needs changing.

Some questions to consider include:
- Do you need a solution that can help manage your practice and patients on the go?
- How much time and money could you save by making changes?
- What technology options are available?
- What are the latest regulatory changes and which solution helps you meet privacy protocol?
- Do you have the right tools for the right job?

It is important to really take the time to see what is out there in terms of all your options that can enhance you and your patient's experience.

For example, to look at x-rays, MRIs and other diagnostics imaging there needs to be certain tools in place. When you are looking at new cloud software, consider the tools that can add value to a medical professionals' workflow and diagnostic outcomes.

This shouldn't be seen as a daunting project, but an opportunity to 'spruce up' your infrastructure and administrative efforts to make it easier for the patients and the team at your practice.

3. Make privacy a priority

The rules and regulations around privacy are constantly evolving, so when you are implementing a software solution, especially one that holds medical records, you need a system that can respond to those changes accordingly.

Moving away from a legacy system is a powerful opportunity to install new security and privacy features to help protect both your practice and your patients.

4. Examine costs and budget

A robust and successful practice requires planning, setting income and cost budgets which can help them invest in suitable and scalable systems. Build up a picture of financial peaks and troughs in your practice. This helps you to budget and allocate resources more effectively.

Every clinic is different, especially in terms of revenue, so not everyone will be spending the same amount for their technology solutions. Different medical practices - even if they specialise in the same thing- will not make the same amount of money.

Getting rid of legacy systems and investing in more modern systems is an exciting opportunity to help alleviate costs and free up some budget for special features and add-ons you may not have been able to afford.

For example, Jovana Kuljaca, Director of Specialist Hub says one specialist that used Clinic to Cloud's voice recognition feature saved them administrative time which created more billable time.

"For one specialist we worked with, voice recognition and customised letter templates saved 4 minutes per letter, and he was doing on average 10 letters a week," she explains. "That is a 40 minute saving a week, which is an entire billable consultation. In effect, he swapped admin minutes for billable minutes."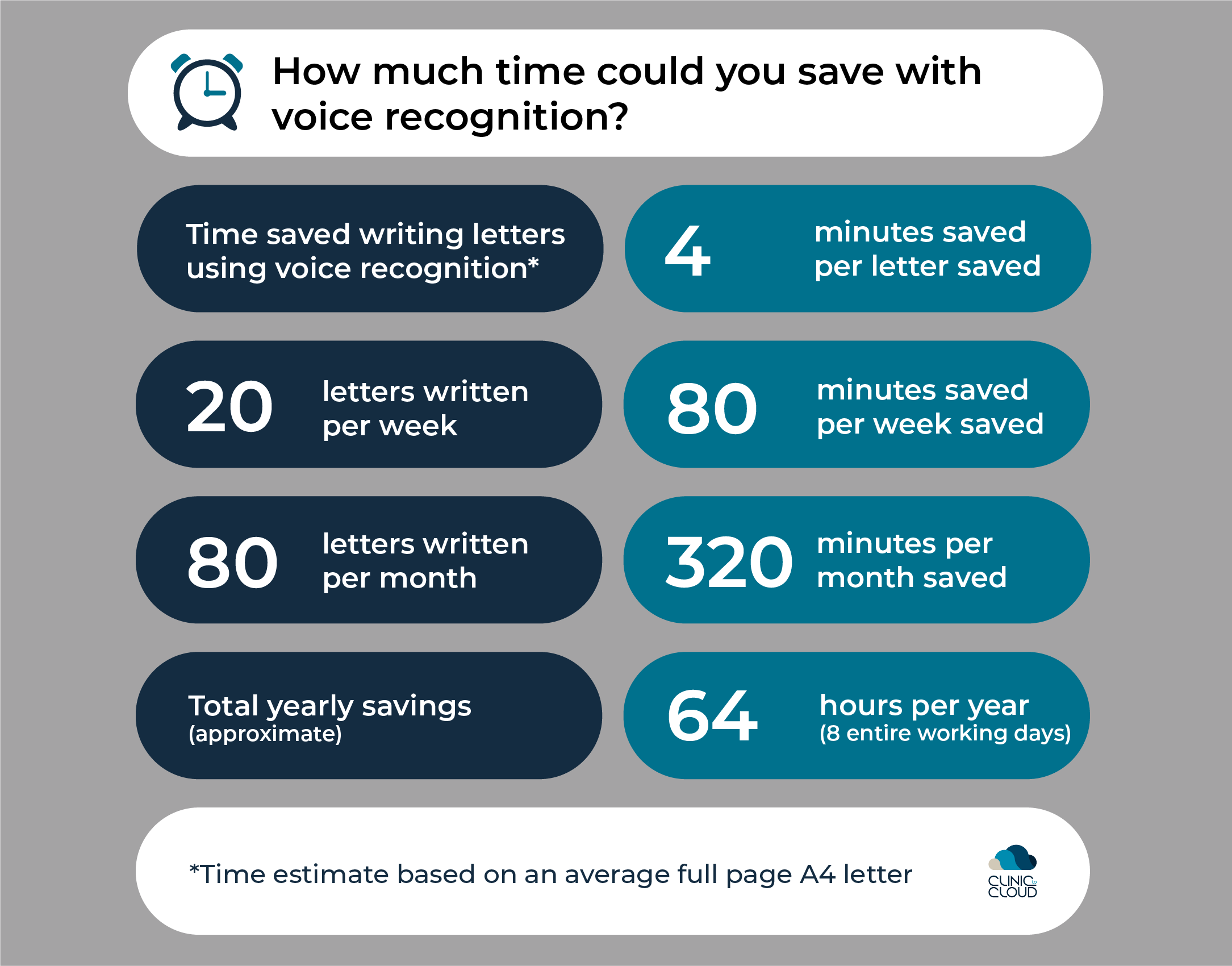 5. Plan the launch road map

You've chosen your software and now is the time to launch it within your medical practice and begin marketing it out to patients - both current and potential.

But 'buying' the software is the easy part - all you need to do is choose it and then pop in your bank details. Then comes the implementation, launch and training.

When planning the launch roadmap take the time to train yourself and your colleagues on how to use the software fully. This can be through educational seminars or getting someone in to show the ins and outs of the product.

Now this doesn't have to be difficult. Many software providers can help with data migration, set up and training, making switching away from legacy systems seamless and fuss free.

6. Manage the impact

The software has launched and your staff and patients are utilising it. Now it's time to see how it's fairing in terms of usability, functionality and efficiency.

Continue to educate your staff so they are up to date with the new software. Conduct surveys and make sure your customer support team is feeding back information to help provide a better service.

You can also use the switch to showcase the impact of your competitive advantage, as you explain to patients the "today vs yesterday" for the same clinic because at the end of the day, it is more effective to show the gain in efficiency between systems instead of between clinics.

Adding new technology to your medical practice using these steps can not only create better administrative benefits but bring faster, more secure and reliable outcomes for both patients and doctors.

Importantly, by being proactive and embracing the concept of 'transforming' your practice digitally, you can ensure your practice, your team and patients are set up to enjoy a healthcare ecosystem that is scalable and relevant now, and for the future.

Legacy health software holding you back? For more information on how Clinic to Cloud can transform your practice click here or contact us today.