Thousands of letters in healthcare are written and distributed every day, including letters to referral services, letters to referring GPs, letters to patients and carers.



Thousands of letters in healthcare are written and distributed every day, including letters to referral services, letters to referring GPs, letters to patients and carers.

But outdated letter writing habits could be costing your practice time and money, and even opening your practice to significant risk. In this article, we take a look at common letter writing mistakes practitioners make and how to avoid them.

The rising cost of manual dictation and transcribing

"For a busy practice, or a multiple doctor/group practice, letter writing and distribution can take hours and hours per month," Jovana Kuljaca, Director of Specialist Hub says. "In most cases, doctors have to dictate letters based on case information, and admin staff then have to type it up, check back for accuracy, and then distribute."

It's no wonder there is usually a significant backlog in letter distribution, sometimes for weeks following the initial consultation and referral.

Increasingly, practices are turning to automation, in particular, voice recognition (VR) to streamline this task and re-invest saved practice admin hours into more patient-facing and practice-growing activities.

"Many of our practices use Clinic to Cloud, due in part to its voice recognition (VR) feature," Jovana says. "In my experience, VR saves practices hundreds of hours per month, giving back this time to practitioners and staff to concentrate on other more important tasks."

"For one specialist we worked with, voice recognition and customised letter templates saved 4 minutes per letter, and he was doing on average 10 letters a week," she explains. "That is a 40 minute saving a week, which is an entire billable consult. In effect, he swapped admin minutes for billable minutes."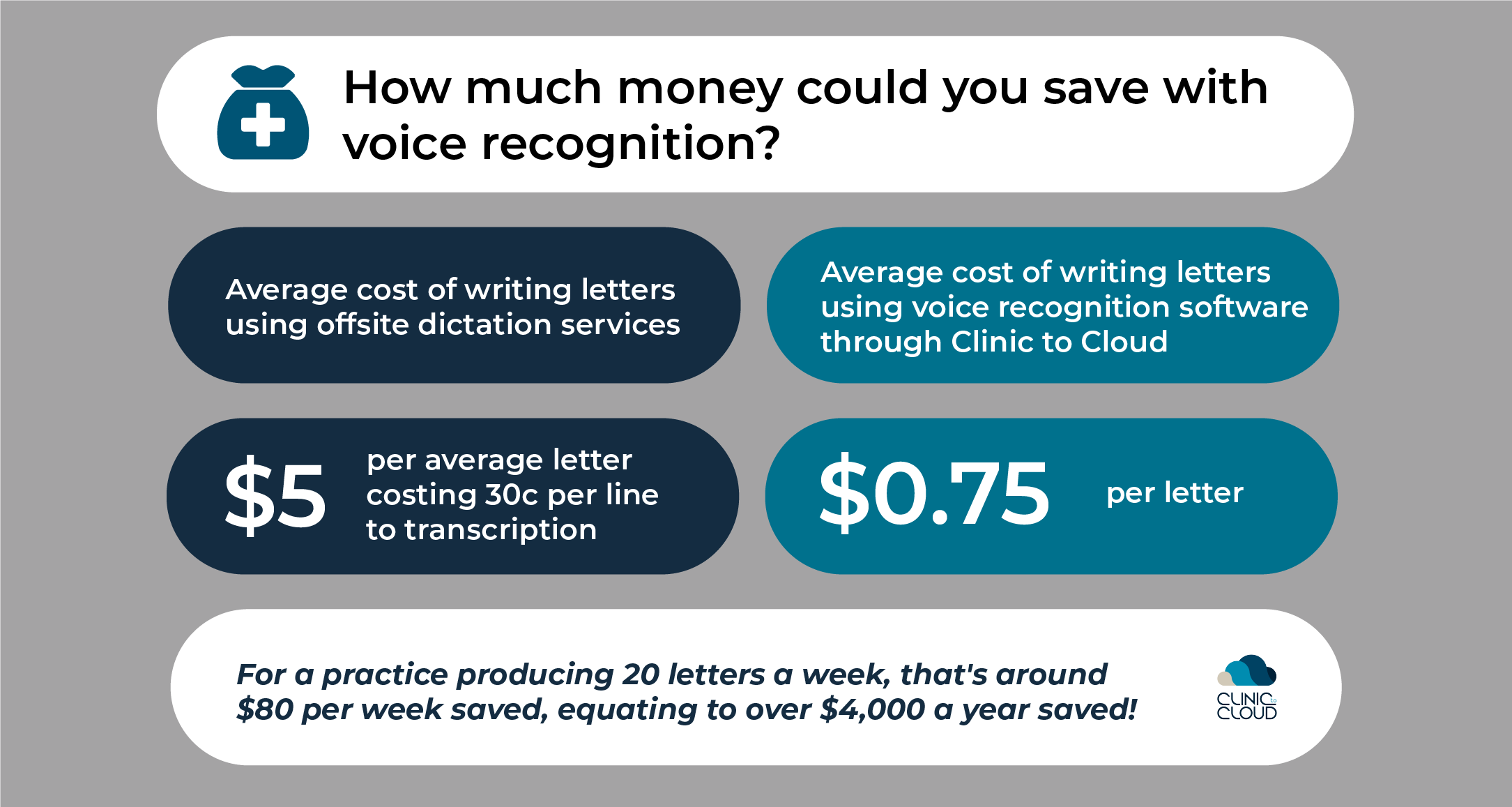 Practices can create their own letter templates within the cloud health software, using their preferred formats and structures for letter creation. From there, practitioners can populate a letter from notes taken in the consult, which they dictate or type as they see the patient.

"The consult notes are imported into the letter template, and the doctor only needs to do a short dictation for sign off, which is then embedded into the letter," Jovana adds. "The letter is then created and ready for either electronic or postal distribution."

One example is IVFAustralia, which treats up to 5,000 patients a year. Doctors and clinical staff faced overwhelming administrative pressures and the turnaround time for letters was up to 4 weeks. However, since deploying Clinic to Cloud's voice recognition feature, IVFAustralia saw an instant reduction in letter turnaround times.

"I was producing about 30 letters a week, but since we deployed speech recognition this has increased by 30%," says Associate Professor Peter Illingworth, Medical Director at IVFAustralia. "Now, I prepare letters much more quickly – usually within minutes after the consultation. I am able to produce a detailed and high-quality letter which is easy to create."
"I now dictate the conversation I had with the patient right after their consultation," he adds. "I like the fact that I can now leave at 5.30 pm and have no letter backlogs at work. This means I feel less pressure. The technology has definitely made my life easier. The accuracy is great. It copes perfectly well with my Scottish accent. I have to say that I love it."

Revenue loss and outdated letter writing habits

Practices now need to run lean to make ends meet, and most practices can't afford to take front desk staff away from managing patients to write, check, and mail letters.

According to Jovana, in many instances this means letter writing is farmed out to off-site dictation services, which charge, on average, 30 cents per line of a letter, costing practices up to $5 per letter, depending on its length. I've seen letter creation in this way cost up to $650 a month for only 150 letters.

"Within those practices using Clinic to Cloud's voice recognition dictation feature for letter creation, each letter costs, on average, around 75 cents to create, regardless of length," she explains. "Each letter is created in minutes, not days, and in many instances are sent within 24 hours of the consultation being performed. Now for a task which does not generate revenue, this is a far easier, and more cost effective way, to undertake it."

Anecdotally, many practices recoup the entire cost of Clinic to Cloud's software just from the cost savings of this single dictation feature!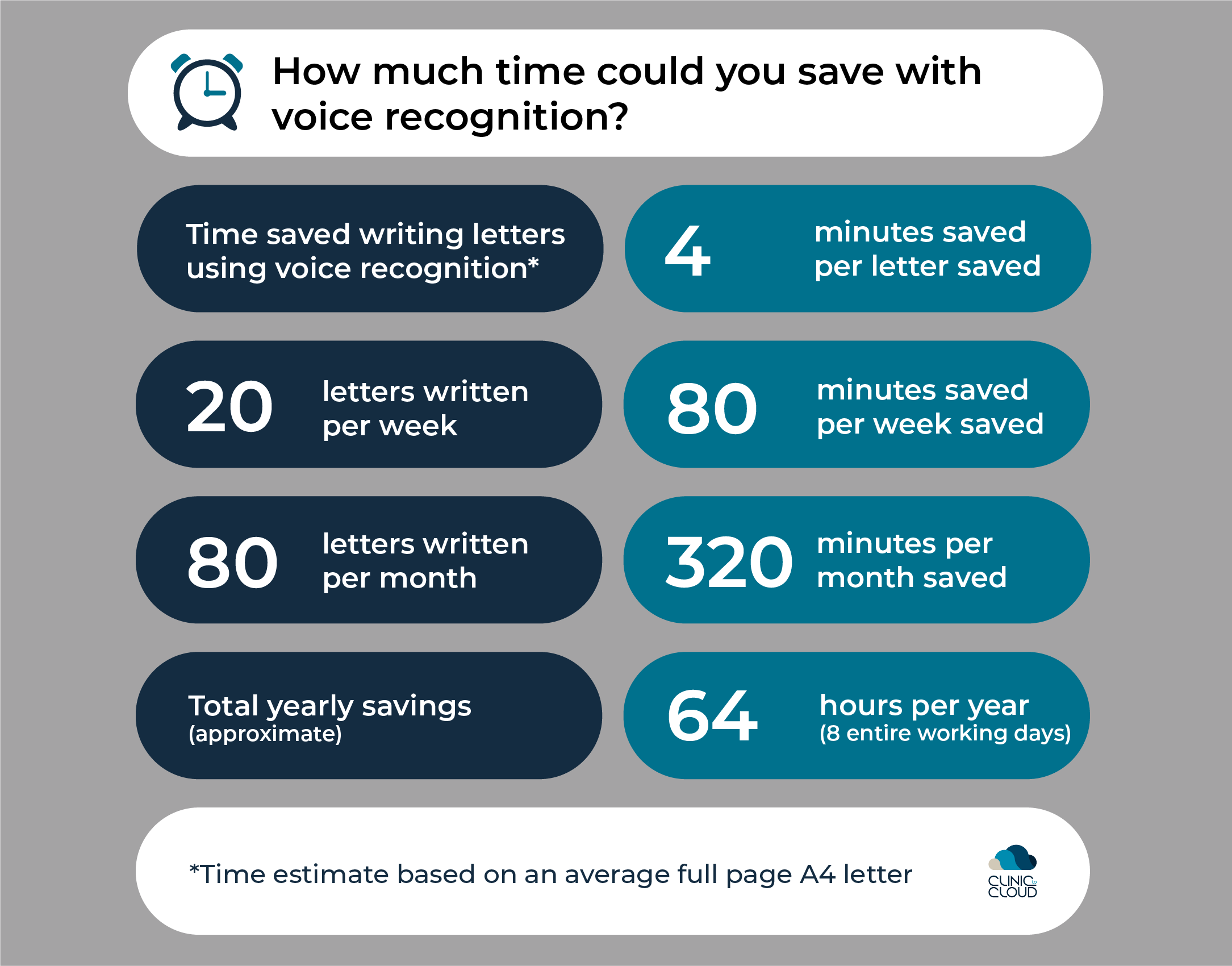 Are your letter writing habits putting patient data at risk?

The above scenarios using overseas dictation services or external voice recognition platforms also come with a certain amount of serious legal implication when it comes to safe and secure patient data sharing, Jovana warns.

"Data sharing and storage now falls under multiple privacy laws, depending on where your practice operates from," she says. "Practices now have to pay careful attention to ensure patient data is not stored anywhere externally or on storage systems or drives located overseas, such as might be the case with a lot of letter storage or dictation software."

One of the more serious mistakes is farming patient data out to overseas based dictation services, Jovana highlights. Not only is confidentiality of patient information seriously compromised, but there's also a risk of the data falling into the wrong hands.

"Patients trust practices to handle their information with care, privacy and confidentiality, and few would be pleased to know their personal healthcare information is being farmed out to strangers overseas to type up," she says."

"There is also the chance of significant error using these methods, where the wrong patient information goes out to the patient. In this time of increasing litigation and data laws and privacy changing daily, practices simply cannot afford all these risks."

Struggling to write letters on the go

If you're used to writing letters without the help of cloud health software, chances are you're going to struggle to stay on top of your letters if you're on the go, or working across multiple sites, Jovana says.

"In my experience, with cloud health software integrated with voice recognition such as Clinic to Cloud's Doctor App, a busy surgeon can dictate letters between appointments or while in the car," she explains. "This makes very smart use of a doctor's time, helps them communicate with patients faster, while also ensuring that after-hours can include some downtime rather than catching up on paperwork."

As an example, Surgical Oncologist, Head & Neck Surgeon and General Surgeon, Dr Gideon Sandler, recently opened his own practice, and like many busy surgeons, operates out of multiple locations within other medical practices, including Bondi Junction, Westmead, Wollongong and Orange.

Dr Sandler loves the voice recognition feature and now can't imagine operating his practice without Clinic to Cloud.

"Clinic to Cloud was the only cloud-based practice management software with a phone app, and it has great functionality," he says. "The upgraded voice recognition software means I don't have to rely on a typist anymore, which is awesome."

"Now, my practice is paperless and appointments can be booked from anywhere, to any location. All the pathology and radiology results get delivered straight to the platform, so I don't have to go looking around for them before appointments. Linking with the multiple practices is straightforward to do, so everything I need just comes straight to me, no matter where I am."

Ease the burden on administration and strengthen your practice

According to Jovana, practice admin staff are under pressure to perform many tasks, which is managing the important patient relationship and ensuring the practitioner has all the information they need to do their jobs.

"This is not only in writing letters, but also in gathering pre-appointment information, coordinating referrals, seeking results, making and changing appointments, booking surgical suites, seeking locums, and most importantly, managing the mental health of their patients and their fellow staff," she says.

"Simply through automating some of these time-consuming admin tasks, staff can save significant hours in the day and be reallocated to patient engagement and focusing on building the business."

As an example, Clinic to Cloud will display how many letters are pending and ready to be done, having already imported the relevant information from the patient consult notes, Jovana notes.

"Then it is a simple matter of sign off and send," she adds. "Likewise, using the Patient Portal, patients can fill in their own health information directly into the system before their first appointment, as well as manage and be reminded of upcoming appointments and tests."

"For practices looking to gain efficiencies and grow, this kind of automation is invaluable to free up staff, gain back time, and save costs."

Dr Talat Uppal, a leading Obstetrician and Gynaecologist and Director of Women's Health Road, agrees.

"To me, time is your most precious commodity, and I want to be able to use it functionally," says Dr Uppal. "And so now, if I'm operating and I have time between patients, I can actually use it to review results, I can write letters - I can use that time very productively because I have all the information at the tips of my fingers."

"I had this dream that we send patients' letters on the day of service, and I feel so happy now when I look at my letters and it's only one or zero to do because I've actually been able to keep pace because our workflow is so optimised with Clinic to Cloud."
To find out more about Clinic to Cloud's voice recognition features click here or contact us today.