Health is undergoing a significant digital evolution. Interoperability and integration through the cloud are set to revolutionise the way health IT systems 'talk to each other' to enable faster, more real-time collaboration and more accurate patient outcomes.


Health is undergoing a significant digital evolution. Interoperability and integration through the cloud are set to revolutionise the way health IT systems 'talk to each other' to enable faster, more real-time collaboration and more accurate patient outcomes.

But despite the proven benefits of interoperability, the health industry has a long way to go to make better integration between health information systems a priority.

What is interoperability and why is it important in health care?

According to a recent report from the Global Digital Health Partnership, the ability of different healthcare providers to use shared information is critical for:
- Team-based care;
- Coordinated care;
- Continuity of care;
- Efficiency of healthcare delivery;
- Data analytics;
- Patient safety; and
- Positive patient experiences.

The lack of interoperability between systems means healthcare providers often cannot exchange information effectively, which contributes to disjointed care, adverse events, inefficiencies and poor-quality data, the report highlights.

Interoperability: A global health issue beyond the pandemic?

The dire need for better integration of health systems has become even more prevalent since the pandemic, with healthcare professionals around the world realising the limitations of their current systems to manage high volumes of patients.

In the UK, a recent report revealed with the increasing numbers of staff working across a number of locations, and patients being treated across multiple localities and settings, the value of connectedness surfaced as a significant gap that needed to be addressed urgently.

Meanwhile, a report from the Global Digital Health Partnership, which analysed interoperability in 15 countries, showed how quickly measures in interoperability were being adopted across the world in the past 12 months: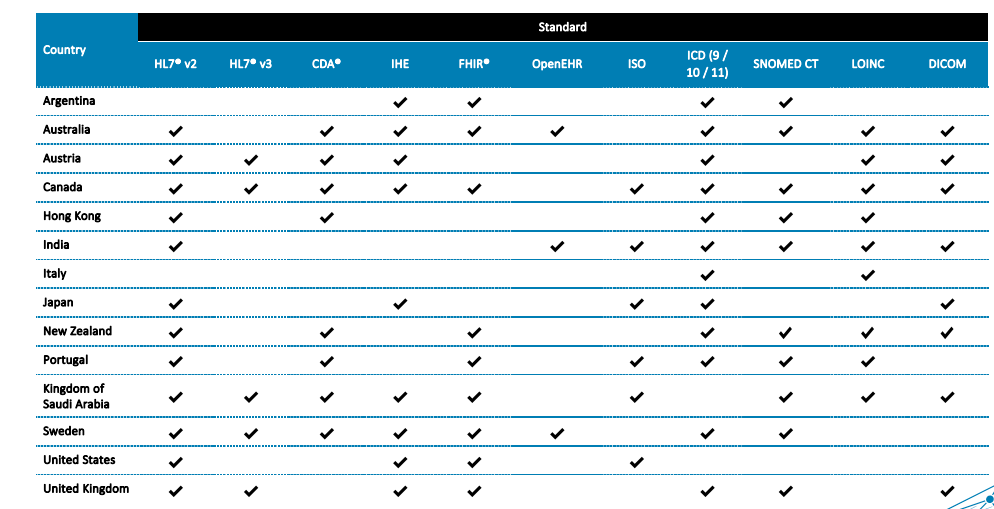 In Australia, the following surfaced as key shifts in interoperability measures taken by the Digital Health Agency:

Continuity of care through the use of shared health summaries;
- Discharge summaries;
- Event summaries;
- eReferrals and specialist letters;
- Diagnostic imaging reports and results;
- Pathology reports and results; and
- Electronic prescriptions

Minimising risk, duplication and improving efficiency in healthcare
Clinic to Cloud software and partnerships ensures that health information flows faster in a more efficient and secure way. This makes clinical processes more efficient, personalised and scalable.

For example, the doctor can say, 'I want my patient to go to this lab'. Through the Clinic to Cloud platform, they can send the information automatically to that particular laboratory, which receives the information - so they know they don't need to re-enter anything on a computer to get the right information. They easily receive the patient name, all the relevant numbers and IDs. The laboratory can use the data they have for the test - or whatever they need to do there. The result will then come back to the doctor automatically via Clinic to Cloud.

This process significantly reduces duplicate efforts and increases efficiency over time. It can also help minimise any risk of patient data going missing, incorrect information or a typo. Now for everybody involved, this is so much more convenient.

A more seamless method of payment processing

Integrating cloud health software with a payment gateway is another great example of integrated systems saving clinics valuable time while making payment processes more fuss-free for patients, who have the peace of mind they can pay in any way. This can also be helpful in minimising billing oversights or having to chase unpaid bills.

Identifying new treatment plans

Another benefit of a good cloud health system that is well integrated is the ability to quickly change treatment plans for better health outcomes. When we start the treatment, for example, with orthopaedics, you need to follow up the treatment, to make sure it's working. If it's not working, you need to change.

Due to the integration between C2C and third party products, C2C customers have access to the whole flow through Clinic to Cloud (i.e., they have access to a set of tools via C2C which has partnerships with those providers). In some cases, doctors actually need some commercial agreement with those providers, but in other cases, they get the tools because they are C2C customers and C2C has some agreements with those partners.

The point is that without these integrations, it can be difficult to transfer data from one tool to another and the doctor needs to jump from one system to another. When using C2C, this integration is seamless. In addition, C2C has a lot of care in terms of providing a workflow that supports the medical decision, so it is a combination of good data and excellent presentation in a single tool.

Scaling and growing the practice

When it comes to looking at the power of interoperability to help strengthen and grow a practice, having a more efficient workflow that minimises duplication is key. This is because, over time there are far fewer points for administrators, for doctors and practice staff to go through.

It's important to note however that the automation doesn't eliminate total human interaction, as the doctor still needs to make notes on the patient file and analyse the results, plus communicate with the patient in a personalised way, contextualising any of the results for the patient. But when you eliminate all the extra admin steps for a medical professional, the process simply becomes faster and less administratively burdensome.

This means you can open up more time for yourself to tend to more complex matters, tend to more patients or use the time to find ways to attract new patients and grow as a business.

The future of cloud health software is exciting

The future of interoperability in healthcare with the power of cloud technology is exciting. At Clinic to Cloud, there are new and exciting partner packages to explore, with each catered to the different types of specialised care.

For instance, we have what's called Patient Reported Experience Measures (PREMs) and Patient Reported Outcome Measures (PROMs), which include integrating some lab results, and psychological results.

What's really exciting is we have the ability to integrate with, in theory, any software that exchanges data with us. So, anything from images, videos, movies, the possibilities are almost endless! The future of interoperability in healthcare is well and truly here, and it's all spurred through the power of great cloud health innovation.
To find out more about Clinic to Cloud's growing partners ecosystem click here or contact us today.
This article was featured on ITWire, read it here.