2020 brought significant disruption, additional stress to both doctors and patients and put digital transformation in healthcare in the spotlight. But from the chaos new trends and ways of working have emerged.

Clinic to Cloud's recent survey found the biggest challenge experienced for practice managers and health professionals in 2020 was:
- Time management (43%)
- Administrative burden (41%)
- Managing patient expectations (40%)
- Revenue/cashflow concerns (39%)
- Adapting to virtual care/telehealth (38%)
- Communicating with patients (34%)
- Increased workload (32%)
- Stress/burnout (31%)

To help alleviate some of these challenges for the coming year, we've put together a list of things practice managers should have in their toolkit for 2021 to help them continue on a path of success for their team while supporting a growing patient base.

1. Ditch the paper

One of the first things medical practices can do to streamline and reduce the administrative burden in 2021 is to go paperless. Not only is going paperless better for the environment, it is also far more secure and helps protect patient privacy. This means no more appointment books, no more taking notes via paper and no more writing letters with a pen. A new year means new digital tools!

Clinic to Cloud also allows for paperless messaging within the software which means clinicians can go back and look at past communication. It's all there on one app. Billing can also be made paperless through Clinic to Cloud with our digital letter management workflows and integrated billing systems.

Dr Talat Uppal, gynaecologist and obstetrician says she feels the team at Clinic to Cloud have listened to her desire to have a paperless practice, and practice management efficiencies significantly improved, with a reduction in double-up and paper usage, and streamlining workflows so her practice management team and doctors could spend more time with patients.

"As an example, Clinic to Cloud's Patient Portal allows me to share information with the patient, and they enjoy the transparency, and the ownership", Dr Uppal says. "The information is paperless: it's not a hardcopy pamphlet they might lose. We only have one planet, and it is a duty on all of us to look at our footprints and how we can optimise workflows using less paper. And Clinic to Cloud helps support more sustainable, paperless workflow practices."

2. Identify Legacy systems

Legacy infrastructure and architectural systems were once a good fit for medical practices but now are seen as outdated and clunky.

These legacy systems are known for doing more harm than good. These systems could also be impacting clinics financially and creating inflexible workflows that are not suitable with today's technology.

Fernando Rosendo, CTO at Clinic to Cloud says as a result, practitioners and staff experience interrupted workflow and waste even more time and money 'making do' on old systems. Importantly, these slow systems could also impact your patient data security, and even jeopardise the efficiency and accuracy of clinical outcomes.

But switching away from 'legacy' systems onto new platforms to support you better in 2021 doesn't have to be hard. As an example, Clinic to Cloud helps support all data migration, gets you set up and trained up so you can get started with minimal downtime.

As an example, in early 2019, the Rodin Clinic decided to switch to Clinic to Cloud, and found that even though they had a significantly large database, the data migration to the new platform was very smooth.
"If you could imagine, we've been in practice since 1997, so we had a massive patient database," Rodin Clinic's Practice Manager, Sharlene Holtom says. "We also had a massive database of imagery, and we were a little bit concerned about transferring that. There were also a lot of templates I had to retrieve from our incumbent software and send over to implement."

"However, the transition to Clinic to Cloud went exceptionally smoothly, better than I expected. We also had a particular staff member as well who was a little bit daunted by leaving a program that she'd been working with for years. But you know, the simplicity of Clinic to Cloud was fantastic, it was easy for everyone to use, and we saw benefits immediately."

3. Revamp your letter writing habits

Letter writing is an essential piece of medical administration, however it can take up a chunk of time for doctors.

"For a busy practice, or a multiple doctor/group practice, letter writing and distribution can take hours and hours per month," Jovana Kuljaca, Director of Specialist Hub says.

This means practice managers should think about alternative ways of letter writing, one of them is dictation. This saves significant time and allows doctors to use that time for billable hours instead of administrative hours.

"For one specialist we worked with, voice recognition and customised letter templates saved 4 minutes per letter, and he was doing on average 10 letters a week," Jovana explains. "That is a 40 minute saving a week, which is an entire billable consultation. In effect, he swapped admin minutes for billable minutes."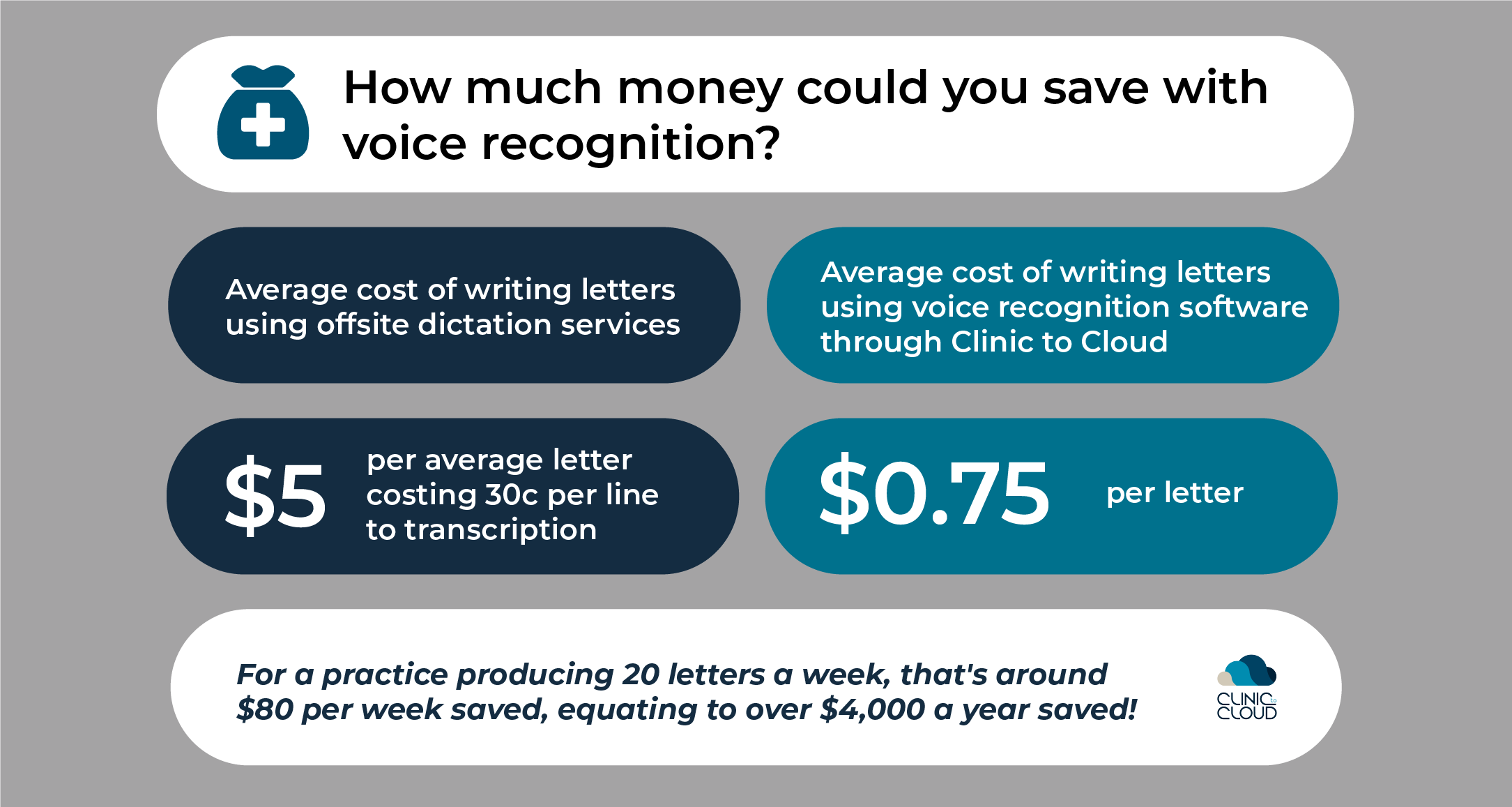 4. Consider remote ways of working

Not every doctor or practice manager needs to be in the practice every day. In fact, many are now working in various workspaces from a hospital to a medical clinic to a remote facility and even at home.

Practice managers should be considering facilitating these new remote ways of working. As an example, Clinic to Cloud's Doctor App allows for medical professionals to be in many places and have patient data in the palm of their hand.

Dr Gideon Sandler surgical oncologist, head, neck and throat surgeon uses Clinic to Cloud because of the Doctor App as it gives him flexibility and mobility especially when he works in both metropolitan and rural clinics.

"All the other practice management software applications were server-based, or didn't have a phone app - except for Clinic to Cloud. So it was a fairly easy decision to make, Clinic to Cloud ticked all the boxes for me," he says.

His practice receptionist is now an avid fan, and has been encouraging other practices she works across to switch to Clinic to Cloud.

"She loves it," he says. "In fact, the clinic she worked out of in Orange is going to implement Clinic to Cloud as well, because of the fantastic experience she's had with it."

5. Create a more holistic telehealth system

Telehealth is not just 'speaking to a patient on the phone or via video conferencing,' it is much more than that.

According to our survey, Building a Better Practice Beyond COVID-19, telehealth has been on the rise in 2020. From the survey, 61% of respondents said a quarter of their consults occurred via telehealth and 23% said three quarters or more of their consults happened via telehealth.

So how can you get telehealth right in 2021? First of all, make sure it is working effectively through the right digital ecosystem securely in the cloud. Also ensure your patients can use the programs easily to avoid confusion.

CEO of Clinic to Cloud, Rafic Habib says, "Our job as a technology platform is to facilitate the administrative aspect of the consultation and capture the relevant patient information, ask the patient screening questions, then automatically feed that information into your Clinic to Cloud environment. Post consultation, we will allow you to push information back out to your patient securely and cost-effectively - and of course bill for the service."

6. Streamline your payment processing

Creating a simpler payment system and streamlining payment processes can free up time for both patient and medical professionals.

Automated payments can speed up the billing process instead of using card machines and outdated billing software.

You can now also integrate patient fees with government concessions and Medicare bulk billing. This not only means faster claiming and reimbursements for patients but also a much lower risk of human error.

7. Focus on your staff's welfare

2020 has been exceptionally stressful and medical professionals have all had it extremely tough. While your practice is all about patient welfare, it's the staff who supports them throughout that journey that also need to be looked after. After all, with no staff, you will not have a practice.

For 2021, think about your staff and continue to check in on them throughout the year. Make sure they are motivated - celebrate the wins and be there through the tougher times, providing support.

Create a good culture within your workspace as building a supportive team environment will keep your medical staff motivated. However cultivating the right environment isn't an overnight activity; rather, it takes proactive planning and ongoing dedication for it to eventuate for you and your team.

In a recent webinar, Kenna Jefferson, business manager at Ear Nose Throat Newcastle discussed how practice managers can alleviate the critical pain points in private practice and look after staff welfare.

"I say to my staff, we can always try something new. If it doesn't work, we can go back to how we were doing it before," she says. "But looking into embracing new ways of doing things, it's the way of the future. And in our practice, we only have one doctor, we only have one nurse - their time is precious. If we can make better use of everyone's time, then it's a win for everybody."

8. Tighten your security and privacy systems

Cybersecurity is a constant threat for everyone, not just those who are in the IT space. Keeping your data safe isn't hard or expensive especially when you have the right tools of the trade.

A good practice management software provider will be prepared for any potential Electronic Health Record (EHR) security breach, and will have contingency plans in place to ward off the threat of data compromisation.

At Clinic to Cloud, we're continually updating our software so that it's backed up and protected from security threats. This includes security measures such as off-site, cloud data storage, Two-Factor Authentication and high levels of encryption.

The start of the year is a good time to review your security policies, protocols and habits, so ensure you aren't making any simple mistakes that could cost the practice millions of dollars in damages and a loss of reputation. These mistakes could be as 'seemingly small' as having a simple password, leaving a computer on or using USBs and mobile phone albums to store patient imagery.

9. Invest in learning and development

Education is not just a "one and done" program, it needs to be constant especially in today's digital health environment that is changing so fast.

Whether it's bringing on new software or trying out a different workflow, the learning curve of trying something can be a challenge.

Clear documentation around workflows will ensure new staff are across all the basics faster. Invest in training initiatives to help your staff, leverage new software features and keep everyone up to date with best practice.

Ultimately, a culture of learning and development needs a highly proactive approach. That's why at Clinic to Cloud we offer personalised training programs to help health professionals understand how to make the most out of our clinical and practice management software.

10. Reevaluate time-consuming tasks

There are some tasks that just take up too much time. This is now the moment to evaluate all your processes and decide what needs to be updated or simply abandoned.

A good idea is to map out every step, from when a patient makes an appointment until the end at the insurance claim. This is a good way to identify any time-zapping bottlenecks.

Look at each task and measure how much time is spent on it. The average physician spends around 15 minutes per consultation, so there's little opportunity to slow down. Any inefficiency that exists around that consult - whether it's spending too much time on paperwork, chasing down patient information or setting follow-up tasks–costs the business money and results in fewer patients accessing the care they need, or the wider team needing to do overtime to catch up on any paperwork.

As an example, Intuition Private Obstetrics and Gynaecology's Practice Manager, Karina Wright, says choosing a cloud solution saves the practice significant amounts of time and opens more time to focus on patient care.

"Thanks to Clinic to Cloud, streamlining our workflow has changed our whole day, because we have time to focus most on our patients," she says. A high level of clinical care and service engagement is truly important. So for us, having to do less admin gives us the ability to have a chat with a patient for 10 minutes, if that's what they want to do.

For more information on Clinic to Cloud and how it can help transform your practice click here or contact us today.