Clinic to Cloud surveyed over 200 practitioners and practice managers to uncover the key challenges in private practice today, and how technology can help strengthen and support practices now and beyond the pandemic.
EXECUTIVE SUMMARY
There is a tremendous amount of pressure on the healthcare sector, and this was true before COVID hit. Administrative burden, declining margins and income, chasing debtors, and the anxiety and stress of healthcare practitioners, staff, and patients - have always been significant issues in this country. 'Achieving more from less' could almost be the healthcare sector's catch cry.

Of course, these issues are even more pressing now, as our latest survey shows. It is abundantly clear: the challenge today is balancing quality of care, with efficiency in cost and time management - in a contactless and compliant environment.

Clinic to Cloud spoke to more than 200 practice managers, allied healthcare professionals and specialists in private practice in August 2020, to identify changes in practice management and patient engagement over the preceding six-month period.

We found the biggest challenge experienced over the past six months was time management (43%), followed by administrative burden (41%), and managing patient expectations (40%).

Unfortunately, 31% of private practices we spoke to reported an increase in stress and burnout, something which was already a significant problem in the sector. Around 71% also saw an increase in patient anxiety or distress, and 50% saw an increase in patient appointment confusion and no-shows.

It's clear we all have a long way to go to better support both doctors and patients, and as we move further into the fourth wave of technological uptake in the healthcare sector, it is technology that will make the difference.

I often talk about three key pillars in healthcare. The first pillar is better information at the point of care. This is about getting the latest and most important information into Clinicians' hands wherever they might be working, as well as into the hands of support staff and patients, to better support and protect everyone, empower patients in their own care, and help doctors be more efficient.

The second pillar is patient engagement. The patient more than ever wants to be involved in their care journey. They don't choose to be sick but when they get sick, they want the best possible care and they want to be involved. In today's world, a practice that doesn't engage with patients, will lose them.

And the third and probably the most important pillar is connectivity - the connected care model. The Australian healthcare system is built on referrals, with that in mind, we see a world where a patient sees a GP, who then refers them to another specialist, and then that specialist refers them to a hospital - that whole journey is connected. When we create that connectivity we also create continuity of care across the sector. This, in my opinion, is one of the most powerful ways in which I see Clinic to Cloud adding value to the sector.

These three pillars are the founding tenets of Clinic to Cloud. Through the power of technology, we aim to make lives better for doctors, their staff and their patients.

I firmly believe building a better future for healthcare lies in the better use of technology. Using technology, there are many efficiencies to be gained, which will translate into significant cost and time savings for the practice and their patients.

With this in mind, we at Clinic to Cloud will be tireless in our pursuit to challenge the status-quo.

Rafic Habib
CEO & Founder
Clinic to Cloud
KEY FINDINGS
Time management the biggest concern: Healthcare workers are increasingly time-poor, stressed

and burnt out, the survey revealed. Respondents cited the

biggest challenge experienced over the past 6 months was time management (43%)

, followed by:


- Administrative burden (41%)
- Managing patient expectations (40%)- Revenue/cashflow concerns (39%)
- Adapting to virtual care/telehealth (38%)
- Communicating with patients (34%)
- Increased workload (32%)
- Stress/burnout (31%)
Administration and payment processing remain a key challenge, with practices experiencing an increase in the following since COVID-19:
- 54% see an increase in credit card payment processing over the telephone
- 69% see an increase in administration, paperwork and document management
Patient engagement and management is a key challenge, with practices experiencing an increase in the following since COVID-19:
- 71% saw an increase in patient anxiety or distress
- 50% saw an increase in patient appointment confusion and no-shows
- 35% saw an increase in patient document management
- 29% (one in three) saw an increase in patient registration and processing issues
Remote working and telehealth on the rise: Across privacy practice,

54% are working remotely more often now compared to pre-COVID

, with 11% working completely virtually. Meanwhile:
- 61% said over a quarter of weekly consults occur via telehealth.
- 23% said three quarters or more of weekly consults occur via telehealth.
Future growth a priority:

53% are looking to invest and grow over the next 6 months

.
- Only 2% are looking to downsize/cut back.
- 52% are maintaining spend in technology solutions that support virtual and remote clinical and practice management (such as cloud solutions, online payments, telehealth, mobile apps). Only 5% are cutting back.
About the Survey: Survey of over 200 practice managers, allied healthcare professionals and specialists in private practice in August 2020, to identify changes in practice management and patient engagement over a 6-month period.
TACKLING THE CHALLENGES OF A TIME-POOR PRACTICE
Practitioners and practice managers are time-poor, stressed out and burnt out, and overwhelmed with the sheer volume of administrative tasks and 'paperwork'.

This is not surprising given the current pandemic situation. However, what is worrying is healthcare practitioners were already stressed and burnt out prior to 2020. In fact, according to the Australian Journal of General Practice, Australian doctors have higher rates of stress and more attempts at suicide than the general Australian population, and burnout has been recognised as a causative factor for depression and suicide in the medical profession.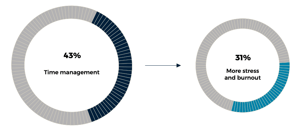 As Rafic points out, the challenges of balancing quality versus efficiency in cost and time management are even more prevalent now than in previous years.

"Doctors and practices face the usual pressures, with the additional burden of needing to create a contactless environment and minimally staffed waiting rooms. Systems have had to change, for example, the heightened screening and hygiene at reception in the aim to avoid exposure for patients and staff equally. These changes are driving costs and salaries are driving salaries upwards and in turn causing the income to decrease. The balance of all that is a challenge for anyone in business healthcare or otherwise" he explains.

"To me it is obvious that stress and burnout is now exaggerated and enhanced by these external forces that are out of our control which begs the need to focus on the things that are within our control as business owners."
Drowning in paperwork and payment processing
Healthcare professionals reported administrative burden was the next biggest challenge they have faced over the last six months, at 41%. Adding to this, 69% of practices have seen an increase in administration, paperwork and document management, and 54% an increase in credit card payment processing over the telephone. On top of this, 39% have revenue/cashflow concerns.

The increase in credit card payments over the phone is of particular concern, due to inherent security risks, and an increasing number of debtors on practice books at a time when they can least afford it.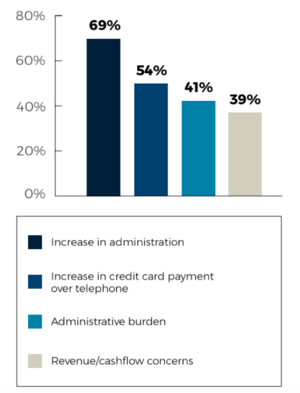 "The risk is obviously both from a debt perspective and a security perspective," Rafic explains.

"Practices having to get on the phone and chase outstanding debt for services rendered with less earnings and exhausted staff. Throwing more people at the problem is not often the answer, what is needed is more efficiency and better patient engagement"

Practice manager of a top ENT practice in Newcastle, Kenna Jefferson, says while her staff thought switching to telehealth consults would involve less admin, it ended up involving more.

This is backed by our survey, which found managing patient expectations (40%), and adapting to virtual care/telehealth (38%), as well as communicating with patients (34%) were significant challenges in the previous six months.

"We had just never done telehealth before. We hadn't anticipated that every one of those telehealth appointments was now going to need a face-to-face follow-up, and they're going to need a physical exam, which is going to take longer than a normal review appointment, and all those kinds of things. We did learn a lot of lessons very quickly," Kenna says.

"There was a lot more admin involved. Just sending out scripts to people sending out testing referrals to them, taking payments over the phone, we also let people do bank transfers, I was checking the bank account 10 times a day to see if anybody had transferred money in."

"There was a lot more admin. And because the doctor wasn't in theatre, he was actually in our rooms five days a week and seeing twice as many patients as we normally would."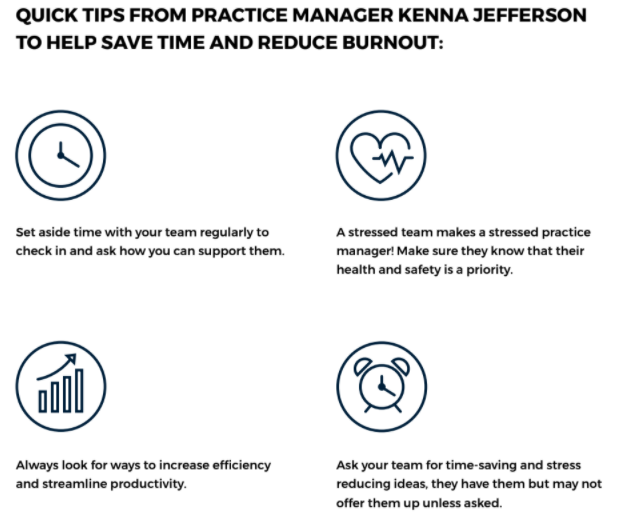 Automation: The key to turning around a time-poor practice
Finding efficiencies within your medical practice's normal mode of operating is not going to be easy but it is possible and it is important. Think about ways to improve some of the administration and practice management workflows in order to either strengthen your capability to scale, or provide yourself and your team some much-needed downtime to avoid burnout.

"We are seeing that practices are looking towards technology to answer some of these efficiency questions, simultaneously, doctors are looking to make their businesses more profitable and safer for both patients and staff" Rafic says.

However, "Looking beyond the current situation, the sector is craving more decision support, connectivity and audit trails that provide more protection for the patient and the healthcare worker without compromising the quality of care. I believe digital health will be at the forefront of every healthcare discussion moving forward."

It is often reported that one hour of patient time equals two hours of administrative work. While in some cases, doctors cannot see fewer patients, particularly amidst a pandemic, they can, however, gain considerable efficiency when it comes to the admin component.

For example, using a cloud-based medical practice software, that outsources some of the admin work back to the patient, allows healthcare practitioners to offer quality, patient-centred care while gaining back many hours wasted in unnecessary administration.

Chief Operating Officer of Clinic to Cloud, Patryk Kania, says poor time-management is a direct result of not automating where it would otherwise be simple to do so.

"It's the result of not knowing how to leverage technology to support workflows and make admin more efficient," he explains. "It's like team sports. If everybody runs around and is exhausted after a 90-minute soccer match, the team manager might need to ask if they have the right strategy. If everyone on the team runs back and forth, trying to do everything, then, of course, they are exhausted, and although may score a goal, they are also likely to lose the game."

"But efficiency is all about collaboration. And using the right tools, systems and processes to eliminate administrative waste and free up more valuable time."
Dr Chantel Thornton, an in-demand Specialist Breast Cancer Surgeon, agrees. She says using Clinic to Cloud at this time has been life-changing.

"It has given me the ability to spend more time out of the office. So on the weekends when I would normally be glued to a computer, I can be out on a walk around the Botanic Gardens instead. If a patient or a referring doctor calls me, I have access to all of the information at hand at the current time, and that is really very valuable."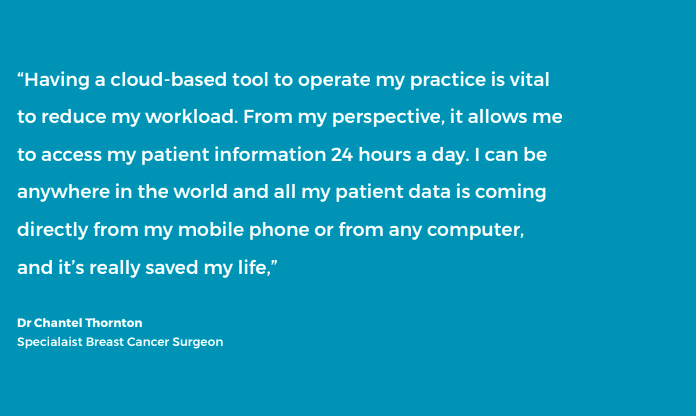 "When you have a heavy patient load, its difficult to recall specific details of patients with out looking at their file so having all that information at hand 24 hours a day no matter where you are is actually life-changing."

"If I see a patient on the ward, I can book a follow-up appointment right there. I don't need to send five emails to the administration staff and then double-check they've actually made the appointment. It frees up your mind to concentrate on what you need to be concentrating on, which is patient care."

Kenna agrees, saying once COVID hit and her practice needed to quickly switch to telehealth consults, practice admin staff were able to adjust the automated messaging sent out to patients.

"We quickly changed all the notifications to explain how to pay, whether appointments needed to be changed, and appointment reminders," she adds. "They took the reins, and we couldn't have done it without Clinic to Cloud. We couldn't have made contact with each patient individually, we would have had to hire more staff, which we couldn't do. But all those automated systems made it all pretty easy. I don't know how we could have done it without Clinic to Cloud automation."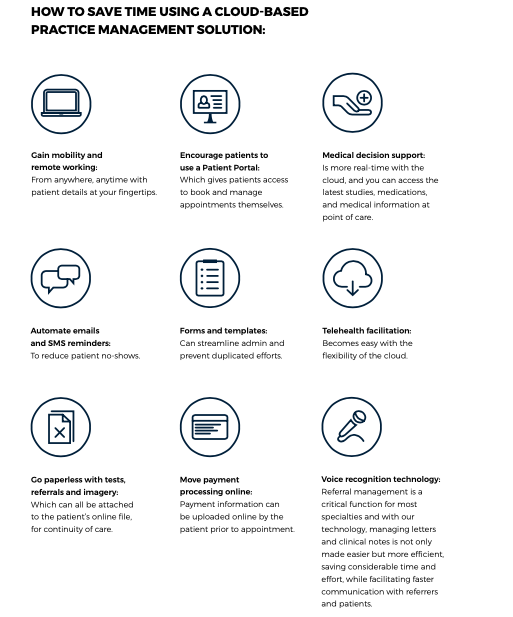 IMPROVING PATIENT EXPERIENCE DURING THE PANDEMIC AND BEYOND
The pandemic has forced many practices to offer telehealth consults where appropriate. As such, our survey revealed patient engagement and management is now a key challenge for practitioners and their staff.

On top of this, patients are more stressed, anxious and confused, with appointment no shows also a top challenge in private practice.

Our survey found 71% saw an increase in patient anxiety or distress, and 50% saw an increase in patient appointment confusion and no-shows.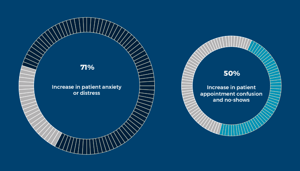 These statistics have a number of serious implications. Most importantly, patients are scared and stressed, and unsure if they should be keeping appointments and the possible exposure this might entail. This, plus the increase in telehealth confusion and lack of access to technology, means many patients simply do not keep appointments. This is leading to both practice income decline, as well as the risk of a serious health crisis in the future due to missed diagnoses.

Practice Manager Kenna Jefferson's top tips to help practices better communicate and engage with their patients:

"We have probably doubled our use of the Clinic to Cloud SMS feature! We find it to be the quickest, most efficient way to communicate with our patients. We also have a number of informative videos that our patients find very useful and our Practice Nurse is always just a phone call away, she is invaluable."

The pending health crisis, more worrying than the pandemic?

Dr Thornton explains Australia is heading into a massive health crisis in the near future, because people have not been getting their regular checkups.

"We are going to be hit with a tsunami of people with major medical problems that have not been addressed over the last six months," she warns. "There's going to be a major health crisis in Australia and it's not going to be corona. It's going to be medical problems that people have not been paying attention to with the right checkups."

"Soon, we'll see masses of patients panicking because they'll have undiagnosed tumors that will likely be non-curable, they'll be panicking as they've left it so late, so they will want everything done faster than ever before."

"So now's the time for doctors to have a look at how they can best prepare for this new wave of patients. Practitioners will need to find ways to streamline processes, to give the patient a better experience and reduce wasted hours doing things the 'outdated pre-pandemic' way."

No shows cost money

Serious health ramifications aside, no shows are a costly exercise for practices, particularly now.

On top of income decline, 35% of those surveyed saw an increase in patient document management, and one in three saw an increase in patient registration and processing issues.

"No shows are extremely expensive and are one of the most costly things that can happen," Rafic explains. "It's probably one of the worst things from a business perspective. I can understand anxiety from a patient's perspective, as well. However, the increasing admin on the back of appointment no shows is simply unsustainable."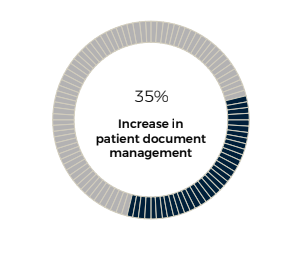 Dr Thornton agrees, explaining automation of appointment reminders and follow-up reminders have saved her significant amounts of time and money.

"I'm a cancer surgeon, so I'm responsible for all the no-shows. When a patient doesn't show, I have to write a letter to the patient and their general practitioner, so it costs me time, plus it costs me money I haven't earned," she says.

"Now, I'm using automated reminders, which have been very helpful. I send out reminders to patients to get their mammograms and ultrasounds done. I can send them addresses and referrals directly. I can remind them they have an appointment booked. It saves me masses of time and money."

Patient experience is universal

Strengthening patient engagement and patient experience is critical now, more than ever. This is not only because patients are increasingly anxious and stressed, but also because the fourth technological revolution has seen people, no matter what service they require, expect more online, streamlined, and cohesive experiences.

"More patients are accustomed to engaging online these days. We all want instantaneous solutions to problems online and we are seeing those trends in healthcare," Rafic explains.

The days of sitting in a waiting room for hours are gone. Patients expect seamless connected care, they expect to be able to see a doctor, have all the information, tests and referrals available to them, and manage their appointments online themselves. In short, they want to participate in their health journey.

"Because of the type of environment that we live in, people want everything now," Dr Thornton explains.

"And the way you get ahead of the competition is you see your patients rapidly, you provide a plan for your patients rapidly, and by doing that you're improving the patient's outcome; you're assisting in a good outcome for your patient by doing everything for them in a rapid and streamlined process. And so you need tools that allow you to do that, and I believe Clinic to Cloud allows us to give the very best care to the patients and it improves time management -our most valuable commodity is time ."

Technology for better patient care

Technology offers a solution to both improve patient care, while adding efficiencies to save practice costs.

"Telehealth is complex whether it is a video or telephone consultation. Our job as a technology platform to facilitate the administrative aspect of the consultation and capture the relevant patient information, ask the patient screening questions, then automatically feed that information into your Clinic to Cloud environment. Post consultation, we will allow you to push information back out to your patient securely and cost effectively and of course bill for the service" Rafic says.

Patryk agrees, highlighting that while patients are anxious and distressed right now, they can become empowered in managing their own health using technology.

"What's interesting here is that 50% of practices are seeing an increase in patient confusion, appointment confusion, and no shows. Now, this particular point is an issue for any speciality. Creating better engagement, smarter workflows helps to solve this problem. I urge practice to think about tools like SMS or email reminders for patients so they don't forget about an appointment, then the Patient Portal allows the patient to engage so that they can self manage their own appointment is also very valuable and has been seen to reduce "no-shows".

"Proactive care is important and practices need to know who needs to be retargeted or called, but they need insights on whether a doctor in the practice has seen this patient, whether a fee estimate has been provided, and whether they have booked a follow up. Clinic to Cloud provides the data for this very targeted approach."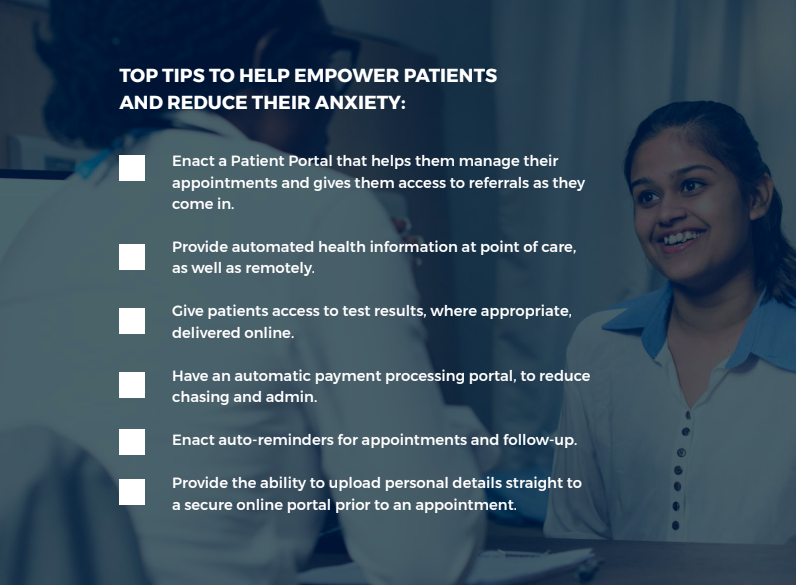 UNLEASHING HEALTHCARE'S DIGITAL EVOLUTION
The fourth wave of digital uptake in the health industry is upon us. What might have been a few years away pre-COVID has been firmly brought into the now by the pandemic, and the shifts in ways of working it has now instigated across the industry.

Front and centre to the transformation is the proliferation telehealth. Remote working and telehealth is on the rise.

Across private practice, 54% are working remotely more often now compared to pre-COVID, with 11% working completely virtually. Meanwhile 61% said over a quarter of weekly consults occur via telehealth, and 23% said three quarters or more of weekly consults occur via telehealth.

It would be naive to think all practices will be back to the face-to-face model of the pre-pandemic era. Instead, the future is a hybrid model of in rooms appointments and telehealth consulting. Both Kenna and Dr Thornton agree telehealth will now become a regular part of their practices moving forward beyond the pandemic.

"COVID forced us to have a telehealth service, which ended up being good. We will be using telehealth into the future, beyond 2020, because we get so many remote patients located miles away from our clinic. And if the doctor can just have a chat with them, get all the information, and then he will eventually bring them in. But it just means less traveling for them, and less repeat appointments. So yeah, we'll definitely keep using it," Kenna says.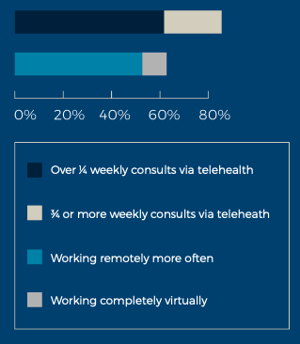 On top of this, AI, natural language processing, virtual and augmented reality, voice recognition, nanotechnology, cloud computing, machine learning and more, all powered by the Internet of Things and 5G, means the technological health revolution will irrevocably change the way healthcare is both managed and delivered moving forward.

In many ways, this digital transformation is opening up exciting new ways in which clinicians and providers can work together for a better tomorrow in the healthcare sector.

The good news is, despite the pressure the pandemic has placed on the health sector, healthcare professionals remain optimistic. While 39% cite revenue/cashflow concerns as a challenge over the past six months, 53% are looking to invest and grow over the next six months. Only 2% are looking to downsize/cut back.

Dr Thornton believes there's been no other time in history where it's been more relevant for doctors to enter the digital age.

"For me, there's no way I could go back to a paper file style of operating now I work from the cloud. However, I understand many doctors are at the end of their careers and I can understand not wanting to change practice mechanisms," she explains.

"However, a new generation of doctors are coming through. They are tech-savvy - it's the norm for them. And they will surpass other colleagues in terms of what they can deliver to their patients. If other doctors in my age bracket don't stop and think: How can I give a patient a better experience? Then they will be left behind."

"There's a whole generation prepared to provide incredible services to their patients that the patient will demand. There's no option for people but to move forward and utilise, like every other business around the world, new technology to improve performance and to improve the health of the patient."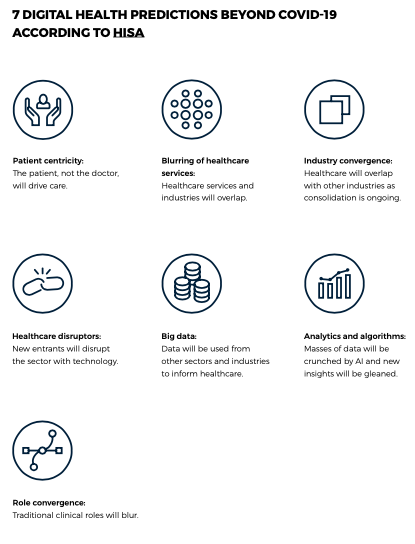 The technological healthcare revolution

The healthcare sector has traditionally lagged behind digital transformation, however the laggers will lose business. 'Patient experience' is becoming synonymous with 'customer experience', where people expect the same personalised, seamless journey, whether they are online shopping, doing their banking or seeing a doctor. In fact, the future trends are that expectations of health care will continue to be driven by the patient, not the doctor, HISA reports.

"At the same time, health care will become increasingly decentralised. More disruptors are entering the market and more apps and services for patients to monitor their own health from the comfort of their own homes will be developed," Patryk says. "Traditional boundaries and roles will converge, and masses of historical and new data will be crunched by new and intelligent technology that will drive new models of care, world-wide."

Appetite for digital transformation is strong according to our study, with 52% maintaining spend in technology solutions that support virtual and remote clinical and practice management (such as cloud solutions, online payments, telehealth, mobile apps). Only 5% are cutting back.

As Patryk points out, 2020 is the start of the fourth wave in digital health and those who won't adapt, will be left behind.

"The next generation of doctors are coming through already. And in a decade they'll be laughing at how we practice medicine today," he says.

"Automation is key. The difference it can make to workflows is astonishing, however many resist adoption because they've always done things in a certain way. Anytime you change something, it can take a while to get used to it and you can see the benefits after you've gone through the learning curve."

According to Patryk, this whole digital journey is just starting. No matter what industry you are in, you have to innovate and evolve, and if we don't, someone will innovate fast enough and take our offering to the next level.

"We may need to go back to seeing our patients physically now, but this might not be true in five years," he adds. "Virtual reality patient care, for example, or the ability to self-test with an app on your iPhone, are all possible. Ten years ago, no one would have thought you could do even blood pressure checks from home. Nobody would have thought that you could do blood tests, instant blood glucose sugar levels with the results traveling through the cloud and straight into the doctor's system, and yet here we are, able to do those things - and more."

"This is just the start of a new journey in healthcare. Some people might say it's the end of how we practice medicine, but it's actually the start of a healthcare evolution. It's the start of building a new and better model for will practice medicine in the future. It's very exciting."
ABOUT THE CONTRIBUTORS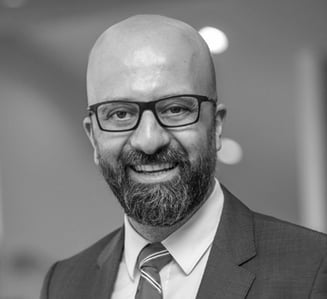 Rafic Habib
CEO & Chairman (Director)
Adv Dip Project Mgmt, GAICD
Having spent over two decades working in the health technology sector, Rafic Habib is dedicated to providing the best technology to medical practitioners and practices. He founded Clinic to Cloud to revolutionise healthcare practice operations, financial performance, and patient experiences. Rafic is also a member of the HL7 Standard Australia Committee, and was formerly a Director of both the University Co-op Bookshop, and ISN Solutions Pty Ltd.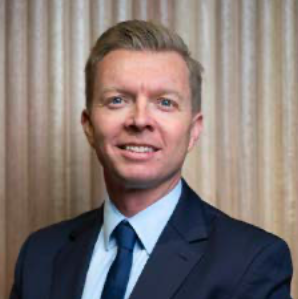 Patryk Kania
Chief Operating Officer
MBA, BA Economics
Patryk Kania has over 20 years of healthcare experience across Europe and ANZ with multinationals such as Roche Pharmaceuticals, Johnson & Johnson Medical, Abbott, and Smith-Nephew. Patryk is passionate about transforming the healthcare sector away from 'innovation in isolation', towards a more cohesive interoperable ecosystem. He has vast experience in a wide range of products including high tech capital, single-use consumables and implants. Results and growth-driven, Patryk focuses on building sustainable and successful teams within Clinic to Cloud while nurturing a resilient, 'can do' culture.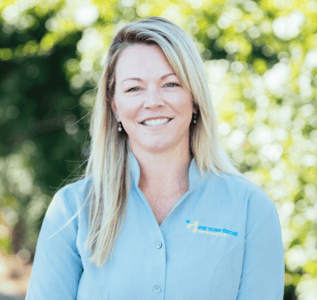 Kenna Jefferson
Kenna is the Business Manager at Ear Nose Throat Newcastle and has been in the role since it's opening in 2016. She oversees the busy practice which is complemented by Nurse and Audiology services. She is also Co-Founder of Australian Doctor's Spouse Network, Editor of the podcast series ENT Expert Opinion, and Publicity Officer for the John Hunter Children's Hospital Kids Club Charity. She attributes her skills at running a busy medical practice and her efficiency to her time in the US Navy and managing 3 children, a husband, a dog and two chickens.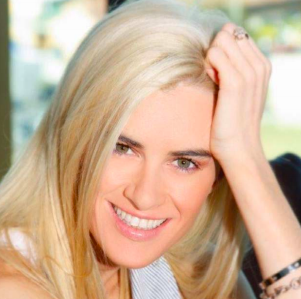 Dr Chantel Thornton (BMSc (hons) MBBS (hons) FRACS)

Dr Chantel Thornton is a Specialist Breast Cancer Surgeon who is passionate about delivering the highest standard of multidisciplinary care for patients with breast cancer. She has a special interest in the surgical management of young women with breast cancer and achieving the best oncological and cosmetic outcome for them by utilising oncoplastic techniques and endorsing immediate breast reconstruction post mastectomy.

She completed a Bachelor of Medicine and Bachelor of Surgery with first class honours from the University of Tasmania, was dux of her medical school and received eight university prizes. She also has a Bachelor of Medical Science with honours which was undertaken at the University of Hong Kong.

In 2010, Chantel was awarded a fellowship from the Royal Australasian College of Surgeons. She established a purpose-built women's health centre with a dedicated team to enhance the treatment of patients with breast cancer. The centre aims to provide holistic care and improve the medical and psychological wellbeing of patients, while delivering the very best breast cancer care. Dr. Thornton is passionate about Medical philanthropy and has served on numerous philanthropic boards.